AENA signs contract to advertise San Javier airport for 6 years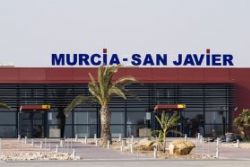 La Verdad has reported how the Spanish Airports Authority (AENA) has awarded contracts to advertise Spanish state operated airports for the next 6 years.
The 49 airports have been divided into 4 lots.
What is interesting - and yet to be officially confirmed - is that one of the four batches includes the advertising and promotion of Murcia's San Javier airport. At this stage it can only be assumed that the advertising of San Javier aiport will cease and that the advertising of Corvera Airport will commence at a suitable time ahead of the airport becoming operational.
Also : Whilst San Javier is a state-owned airport, Corvera is owned by a private company - although operated and managed by AENA.
The brief given to those who have been awarded the promotion contract is to increase the digital and TV exposure of Spanish airports to reach a broader spectrum of potential visitors to Spain by means of using new media.
CEMUSA has been awarded 3 out of the 4 contracts, which include the airports of : Albacete; Algeciras; Alicante; Almeria; Badajoz; Barcelona; ​​Ceuta; Cordoba; Girona; Granada; Jerez; Malaga; Melilla; San Javier / Corvera; Reus; Sabadell; Sevilla; Valencia and Zaragoza.
The company already promotes the airports of Gran Canaria; Tenerife North; Tenerife South; Lanzarote; Fuerteventura; La Palma; La Gomera and El Hierro.
AENA spent 30 Million Euros on advertising in 2011, equating to 4.5% of the total gross revenue.