Spain, growth worries weigh on euro but European shares gain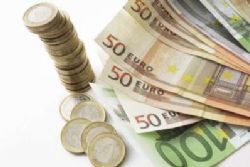 Weak Asian economic data and concerns about Spain's public debt problems briefly pushed the euro to a 3-week low on Monday, but European shares were higher as investors took advantage of recent falls to buy back in to market.
The latest evidence of weakness in the global economy came from China, Japan and South Korea before euro zone data due later which is expected to confirm the region has slipped firmly into recession.
The euro fell as low as $1.2804 early on Monday before recovering to be little changed at about $1.2860.
"The market has entered 'glass half-empty' mode," analysts at Morgan Stanley said in a note, signaling that each piece of weak economic news will probably be interpreted negatively.
Investors also remain wary about the outlook for Spain, which is expected to need a full international bailout at it struggles to raise funds for deficit-laden regional governments while recapitalising its struggling banks.
But the uncertainty about Spain and the wider global economic outlook follows a strong third quarter for many financial markets, when aggressive actions by major central banks to ease policy boosted prices.
The bluechip Euro STOXX 50 index, which posted its best quarterly performance in 3 years in the last quarter, was trading up 0.4% at 2,465.79 points.
Oil fell below $112 per barrel as the weak Asian data raised concerns about future demand but this came after the crude benchmark closed Q3 with its biggest 3-month gain in 18 months.
In the debt markets German Bund futures traded lower at the open but investors were on edge before a review by credit rating agency Moody's, which currently has Spain one notch above junk status.
The main German bond futures contract was down about 0.3% in early trade to 141.25, but Spanish government bond yields were little changed.