IAG Sept traffic lifted by British Airways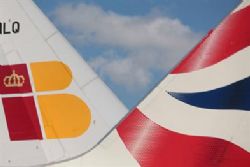 International Airlines Group , formed by the merger of British Airways and Iberia, posted a 5.1% rise in September traffic, led by a buoyant performance from the UK carrier.
Traffic, measured in revenue passenger kilometres, rose by 5.1% versus September 2011, while passenger load factor - a measure of how well it fills its planes - was up 1.2% point at 84%, it said on Wednesday.
IAG said its first and business-class travel - the most profitable part of its passenger business - rose 8%, while non-premium traffic was up 4.6%.
The company said underlying market conditions had not changed since August.
"Trading conditions at our London hub remain firm," it said. "Performance at Madrid continues to be impacted by weak economic conditions, with short haul traffic particularly affected."
British Airways' September traffic was up 7.6% compared to a 0.8% fall at Iberia.
IAG has seen worsening economic conditions in Spain hit its performance in recent months, undermining strength in long-haul travel out of London.
The group recently said its commercial performance at its Madrid hub has deteriorated further due to the ongoing effects of challenging macroeconomic conditions in Spain and across the wider euro zone, as well as the the after-effects of prolonged industrial action.
Earlier on Wednesday, British low-cost airline easyJet's increased its full-year profit guidance, boosted by sun-starved Britons taking last-minute holidays to flee the wet weather at home this summer.