Lorca Mayor Hospitalised After Floods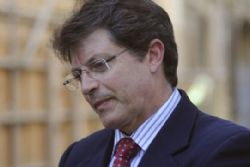 The Mayor of Lorca, Francisco Jódar, was admitted into hospital last night with stress and may well stay there for some days to come.
Although the Mayor's condition is not thought to be serious, he has been ordered to rest for several days following symptoms which arose yesterday.
Deputy Mayor Francisco Montiel, will assume command of Lorca's Town Hall, said in a statement that the mayor had gone into hospital voluntarily after suffering symptoms which worsened as the day progressed.
Speaking of his colleague, the Deputy Mayor said "He is not in any danger and is under observation by medical personnel".
Over the last 16 months, the Mayor or Lorca has had to deal with the devastating double earthquakes and aftermath which destroyed much of the city, a deepening financial crisis, rising local unemployment and most recently the worst floods ever recorded in the city which killed several people and destroyed vast areas of land, homes and possessions.
"All of us here have witnessed the pace the mayor has been working at, which has intensified over the past few days because of the events we are all familiar with and because of his total and absolute dedication to the town", Francisco Montiel added.
Many areas of Lorca are still water logged and some families are unable to return to their properties. A number of homes have been declared structurally unsafe to enter having had their foundations washed away.
Insurance companies and assessors have descended on the city trying to help victims find quick resolutions to their immediate problems.