Canaries join queue for Spanish aid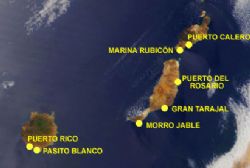 Spain's Canarias region will seek €757 million in aid to repay debt and finance its deficit, leaving a new central government liquidity fund with little left in its coffers as Madrid weighs whether to seek an international bailout.
The Spanish government set up the €18 billion fund to cover the financing needs of the country's autonomous communities that are shut out of capital markets.
The indebted regions are at the heart of concerns over Spain's own capacity to manage its finances without seeking foreign aid.
European officials said on Monday that Spain was ready to request a euro zone bailout for its public finances as early as this weekend although Germany had signalled that it should hold off. The prime minister said the next day that there would be no imminent request for aid.
So far the regions of Catalonia, Valencia, Murcia, Andalucia and Castilla La Mancha have already said they would seek a combined €16 billion in aid.
With Canarias nudging that figure up, the fund, to be financed by Spain's main banks as well as by a €6 billion payment from the state lottery, will only have about €1.5 billion left in its coffers.
Although several other of Spain's 17 autonomous communities, including Madrid, have said they would not need to tap the fund, various regions are still expected to request aid.
The government's head of regional finances, Javier Gonzalez Ortiz, said Canarias would use €327 million to repay maturing debt and €430 million to finance the deficit.
He also said the regions tapping the fund would not have to start repaying the loans before two years and that the loans would run for a period of 10 years and bear an interest rate of 5 - 5.5%