USA Presidential candidate angers Spain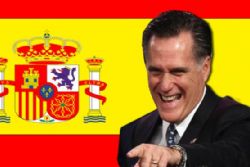 Spain has been angered by recent comments made by the USA's republican candidiate in the presidential elections.
In a televised debate over the weekend, Mitt Romney used Spain as an example of economic incompetence where he went on to describe it as being overly dependent on government aid.
Romney also said that government spending under President Barack Obama has reached 42% of the US economy, a figure comparable wih Spain.
The comments left Spaniards confused and angry, and underline Romney's own incompetence and lack of diplomacy concerning many sensitive foreign affairs.
"What I see is ignorance of what is reality, but especially of the potential of the Spanish economy," Spain's Deputy Prime Minister Soraya Saenz de Santamaria said in response to the comments.
Maria Dolores Cospedal, leader of Spanish PM Mariano Rajoy's Popular Party, noted that 'Spain is not on fire from all sides like some on the outside have suggested'.
Foreign Minister Jose Manuel Garcia Margallo called it 'very unfortunate that other countries should be put up as examples' when the facts are distorted, the report added.
Romney should perhaps be reminded which Global superpower was largely responsible for being the cause of the globa economic downturn, which started some years ago now.