Business leader slams Castellon airport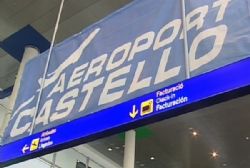 The President of the Valencian Business Association, Vicente Boluda, has commented on the lack of rationale in the location of Castellon airport, claiming that a site such as Sagunto should have been chosen, which could then serve both the Castellon and Valencia provinces more effectively.
Boluda made the comments to the press ahead of the Association's borad meeting, where he also referred to the airport as "a mistake".
"All I said was that before building Castellón airport, there should have been a little more rational, such as locating an airport in the middle of the two provinces, such as Sagunto, which is just 25km from Valencia and 30km from Castellon.".
The President aso claimed that such an airport would be self-financing because of the links it would provide between Valencia and Madrid.
Boluda maintained that he was in favour of contructing new airports - provided that they were economically viable : "I would be happy to see an airport every 15kms", he commented.