Spain property repossessions extend to middle classes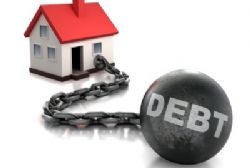 According to Industry watchdog AFES (Asociación de Afectados por Embargos y Subastas), Spain's economic downturn is resulting in more and more families being effected by the repossession of their properties.
Up until recently it was largely lower-income and mainly immigrant families who had been effected by the issue of property foreclosure as they struggled to meet their mortgage repayments, however the problem has been increasingly extending to more and more middle-class and previously well-off families, who are now accounting for as much as 60% of all repossessions. In 2009 80% of all repossessions were for the homes of immigrant families.
Many parents of 1st time buyers, who used their own property as collateral, are also finding themselves caught in the middle of the crisis as their indebted offspring are finding themselves without work and unable to meet their mortgage repayments.
Carlos Banos, president of Madrid-based AFES, said parental guarantors "are the saddest of all cases" the association sees. "The kids lose their homes, go live with mom and dad and then mom and dad lose the home that they worked all their lives to pay for because it backed their children's debts."
At the peak of the housing boom in 2007, purchasing a home in Spain cost an average of 7.7 times a family's annual gross income on average, compared with 5 times in the UK, according to research by Banco Bilbao Vizcaya Argentaria SA (BBVA), the country's second-biggest lender.
Spanish home prices have fallen more than 30% since the peak, according to TINSA, Spain's largest homes appraiser. That's left about a fifth of borrowers in negative equity, a figure that could reach 25% by year's end, according to Standard & Poor's. Unemployment, already the highest in the EU, rose to 24.6% in Q2, the highest since at least 1976, the year after the death of dictator Francisco Franco.