Bank of Spain to increase core capital ratio to 9%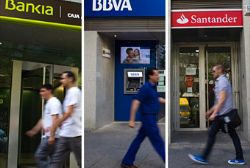 The Bank of Spain has reviewed their stance on rulings concerning solvency to issue a new core capital-ratio target of 9% for the country's Banks. The new limits will be applicable from Jan. 1, 2013, with an aim of unifying the capital-ratio criteria with that set by the European Banking Authority, according to Cinco Dias.
The current requirement is either 8% - rising to 10% for institutions with greater dependence on wholesale markets and which haven't shown the ability to raise sufficient investment from the capital markets.
The central bank will also demand that the country's lenders must submit a querterly breakdown of what assets are to be included as core capital, the paper adds.