Action group confident in outcome of CAM Bank appeal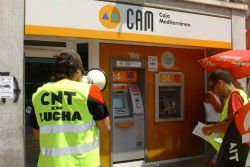 Following the Finca Parcs Action Group (FPAG) trial in May of this year involving 47 buyers at the Las Higuericas Finca Parcs development near Murcia, Spanish property developer Cleyton GES SL and CAM Bank (now SabadellCAM) were instructed by the Judge to repay the deposits paid by FPAG members plus interest and costs.
The developer, Cleyton GES SL, did not appeal the Judgment; however CAM Bank did Appeal.
FPAG filed their Opposition to the CAM Bank Appeal to the Albacete Appeal Court on 3 September 2012.
The date of March 4th 2013 has now been given, whereby Appeal Court Magistrates must make a final decision, with all parties being notified of the result by the end of the same month.
Keith Rule, Coordinator of the Finca Parcs Action Group & Bank Guarantees in Spain Action Group , explains : "3 magistrates from the Albacete Appeal Court have been appointed to this case and will preside over the Appeal. They will make their decision on 4 March 2013. The decision will be released and notified to all parties by the end of March 2013 at the latest".
Despite the appeal the FPAG members and their legal team remain confident that the ruling will be upheld : "We have a very strong First Instance Sentence and our opposition to CAM's Appeal included a significant amount of Case Law on the issue of banks liabilities according to Spanish Law, LEY 57/1968"
Despite its actions being described by the Judge as "banking malpractice" CAM Bank continues to maintain that it is not responsible for the situation and that all irregular actions and illegalities were committed only by the developer.
>> Click HERE to find out more about Bank Guarantees in Spain<<
Other buyers of off-plan property in Spain who were not issued with the legally required bank guarantees to protect their deposits are awaiting the outcome of this case with interest as an Appeal Court decision can be used as a Case Law precedent in other similar cases.