Spanish Day Marred By Catalan Violence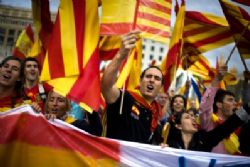 The national day of Spain was today marred with violence from Catalonian pro-independence supporters upon a friendly march of pro-unity supporters.
Several thousand Catalan residents gathered in Barcelona to show their support for unity with Spain, however they were shadowed by several Catalan pro-independence supporters who hurled abuse, spat and threw missiles at the crowd.
The peaceful group of pro-Spanish unity supporters, including children, carried banners and signs saying "We are all Catalonia." The group was showing their support to remain unified within Spain.
Televised on all Spanish news services, the pro-independence group grabbed Spanish flags from supporters, tore them up, spat on them and pushed people around hurling abuse.
Riot police were on hand and attempted to keep the two groups separate during today's march.
One particularly nasty event started by the independence group resulted in violence towards a man with his children. The man's daughter was seen being carried away by emergency services hysterical with fear over the incident whilst Police rescued the man from the violent mob.
One of the pro-independence supporters who incited the violence was arrested however police brushed the incident off as a minor incident.
Much of Catalonia took advantage of the bank holiday break, however in defiance of the National Day of Spain, 12 schools in the region remained open despite it being a bank holiday. No lessons were taught except for reaffirming pro-independence and Catalan values to the school children.
Catalan politicians have not made any comment over today's violence and not made any attempt to calm the tensions of the Catalan public.
This silence will no doubt raise alarm amongst tourist, eager to remain neutral, in a region which appears openly and violently against unity with Spain.