Spain credit rating same as Azerbaijan and Romania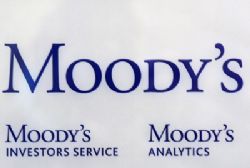 Spain's government dodged a bullet on Tuesday when Moody's Investors Service affirmed its investment grade rating, assuaging widespread fears that the euro zone country would be cut to a junk rating.
Moody's kept a Baa3 rating but assigned a negative outlook, leaving both the rating and the outlook in line with that of rival agency Standard & Poor's, which rates Spain at BBB-minus. Fitch Ratings' grade for Spain remains one notch higher at BBB but also with a negative outlook.
By comparison Moody's rank the countries of Romania, Lativia and Azerbaijan alongside Spain.
Spain has been ready to ask for euro zone help since the beginning of the month, EU officials have told Reuters, with the most likely method being a precautionary credit line of around €50 billion triggering a potentially unlimited bond-buying programme from the ECB.
But German reluctance to sign off on another bailout for a troubled euro zone country - the second for Spain after it obtained a €100-billion credit line for its banks in June - has delayed a request.
Moody's believes the ECB's willingness to help with bond buying, reducing the volatility in Spanish government bond yields, will cut the
Spanish officials say PM Mariano Rajoy has not made a final decision on a bailout request because he still wants to discuss with the ECB some details of the plan.
Spain also wants to make sure its euro zone peers won't be asking for additional demands on economic reforms once it has made the request.
The matter will be discussed at a European summit in Brussels on Thursday and Friday and possibly at a separate summit of the 17 euro zone leaders after the main meeting, some officials said.
Once a request is made, the country still has to negotiate the conditions attached to the loan with the euro zone and sign a memorandum of understanding.
Prior to the announcement, yields on Spanish 10-year sovereign bonds edged up to 5.792% on Tuesday, well within recent ranges.