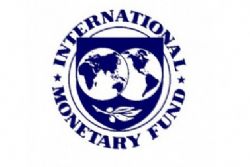 The IMF called on the eve of a EU summit for both Spain and Italy to seek euro zone assistance to draw a line under the bloc's debt crisis, but Rome has rebuffed the idea and Madrid seems likely to apply alone.
The 2-day Brussels summit will debate steps towards a single banking supervisor and proposals for closer euro zone integration, including German Finance Minister Wolfgang Schaeuble's idea of a super-commissioner with veto powers over national budgets.
No decisions are expected this week and there is no certainty as to when Spain will come off the fence.
Spain dodged a bullet on Tuesday when Moody's maintained its credit rating at investment grade, with a negative outlook, on the assumption that Madrid will trigger ECB intervention soon to lower its borrowing costs.
Spanish and Italian bond yields fell in response, while the euro strengthened to a one-month high against the dollar.
IMF chief economist Olivier Blanchard told an Italian daily that the euro area was close to having all necessary measures in place to ensure Spain and Italy can keep borrowing in the markets while they implement painful economic reforms.
Senior Spanish and euro zone sources have indicated Madrid is preparing to request a precautionary credit line from the euro zone rescue fund in the coming weeks - a move that could start ECB bond-buying once Spain agreed on policy conditions.
Italian PM Mario Monti said last week a Spanish request could be enough to calm markets. He has repeatedly said Rome does not need assistance for itself.
GERMAN RESISTANCE WANES
Resistance from EU paymaster Germany to a credit line for Spain is waning, sources in contact with top German policymakers said, although any decision is likely to come at the earliest at a November 12 finance ministers' meeting and perhaps later.
By then, EU and IMF officials should have completed a report on Greece's compliance with its second international bailout, paving the way for an urgently needed €31 billion aid tranche to keep Athens afloat.
Spain has said it should have to meet no new conditions to receive a credit line, seen at around €50 billion, since it is fulfilling all the EU's policy recommendations for deficit-cutting and economic reforms.
However, a senior euro zone source involved in high-level negotiations on the debt crisis said Madrid might be asked to reform its pensions system and break the link with inflation, which economists say is an unsustainable fiscal burden.
PM Mariano Rajoy has said pensions are the last thing he would touch, but his government has held off until next month a final decision on whether to pay an inflation catch-up of some 3% due in January.
Separately, the government has also said it would revise the sustainability factor of the pension system, which may lead to accelerating a planned increase in the retirement age to 67 from 65.
MONTHLY SUMMITS ?
Debate about the future shape of the EU intensified ahead of the summit, for which the heads of four European institutions have drafted guidelines on future integration including a possible separate euro zone budget and binding contracts on policy reforms with euro zone countries.
A senior German official told reporters that Chancellor Angela Merkel fully shared Schaeuble's call for a new currency commissioner with powers to enforce budget discipline on euro states.