"No risk" Of Corvera airport default : Minister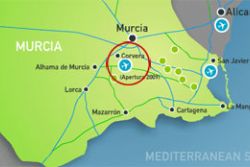 The Minister of Public works for the regional government of Murcia, Antonio Sevilla, today commented how there was "no risk" of default by the consortium behind the Corvera International Airport project.
Over 18 months ago the regional government guaranteed a loan to the value of 200 Million Euros to back concession holder, Aeromur, in their bid to complete construction at the airport.
Since then a number of issues have caused delays to the completion of the project, which is currently expected to be operational by April of next year.
Last week it was reported how the majority shareholder in the Aeromur partnership - SACYR - was attempting to force the closure of neighbouring San Javier airport in a bid to ensure the speedy completion of Corvera airport .