Galicia shames Castellon airport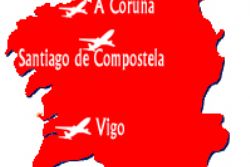 El Mundo has reported how Galicia's two regional airports : Vigo and A Coruña, welcomed a total of 1.3 Million passengers between them in 2011.
Although each airport is of comparable size to the contraversial Castellon Airport, the combined financial support provided by the central government is less than that due to be paid to the province of Castellon for the year 2013.
A Coruña recieved a total of €40.94 Million in funding and flew 649'000 passengers, whilst Vigo recieved €28.5 million for 639'000 passengers.
The province of Castellon will recieve a total of €106 Million Euros next year for "the development of infrastructure", including a yet-to-open High speed AVE link and a yet-to-open Airport.
Although not directly funded by central government, the regional government of Valencia remains the majority backer behind the 'White Elephant' airport at Vilanova d'Alcolea.
Read further Castellon Airport news by clicking the link >> HERE <<.