AMET Issues Severe Weather Alerts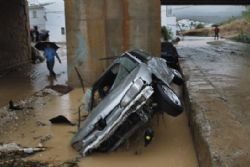 The Spanish Meteorological Agency, AMET, has issued severe weather warnings of torrential rain across Spain.
The weather warnings stretch from Friday, 19th October 2012 until Sunday, 21st October 2012
Orange alerts are in place for the whole of Murcia where 40-60 liters of rain per square meter per hour is expected to fall along with stormy conditions, which has triggered the Civil Protection Special Plan to the risk of flooding.
Whilst the rain is not expected to result in flooding on the scale which devastated Lorca and Puerto Lumbreras and many other areas of Spain on the 28th September 2012, a similar warning for 40 liters per square meter per hour was in place for Murcia on that day. However, more than 244 litres of rain per square meter per hour fell instead.
Three weeks later, the ground is saturated and there is still plenty of standing water around, prompting cause for concern of more flooding. Residents appear to be heeding the warning.
The regions of Cataluña, Comunidad de Valencia, Comunidad Foral de Navarra and Aragon all have orange alerts in place this weekend. Red alerts are in force for the provinces of Huesca, Zaragoza and Navarra.
Recommended Reading
• Current AMET Weather Warnings
• AMET Alert :: 19th October 2012 - 21st October 2012 PDF FORMAT (Spanish)