Further confusion over Castellon Airport ownership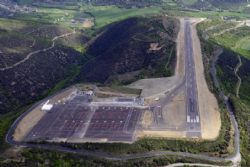 The Supreme Council today approved a Royal Decree to streamline the operation and management of public companies within the Valencian Community.
The measures will start to be rolled out from early 2013, where it is expected that the 7'555 public workers will be trimmed back by 40% saving around 100 Million Euros in salaries alone.
The 76 publically owned companies are expected to be reduced to around 30.
Moreover, the Supreme Council has also ordered that shares owned by the region for private ventures such as Aerocas - the concession holder of Castellon Airport - must be consolodated.
This effectively means that the fiscal future of Castellon Airport may be decided in conjunction with, and alongside other non-related projects such as the City of Arts and Sciences and the Formula 1 Grand Prix circuit.
Read further Castellon Airport news by clicking the link >> HERE <<.