Spain bans photographing of Police Officers on duty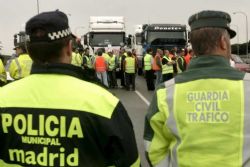 The Spanish Central Government has angered many human rights groups by drafting a law that prohibits the phographing and filming of Police officers whilst on duty.
The Ministry of the Interior asserts that this is not a restriction of freedom of expression, but simply in order to protect the lives of law enforcement officers.
­
The move follows a number of protests throughout the country against strict austerity measures - notably cuts to public healthcare, welfare and education.
The so-called "Citizen Safety Law" will place a ban on the "capture, reproduction and editing of images, sounds or information of members of the security or armed forces in the line of duty," according to the director general of the police, Ignacio Cosido, who added that this new bill seeks to "find a balance between the protection of citizens' rights and those of security forces."