Spain Bank Recapitalisation "Complete in 2013"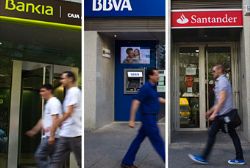 Spain's banks, hit by a property crash that has prompted a government-forced clean-up of toxic real estate assets, should be fully capitalised by mid-2013, the European Union's antitrust chief said today.
"The whole Spanish financial system will be fully capitalised by mid-2013 at the latest," EU competition commissioner Joaquin Almunia said in the text of a speech to be delivered at a conference in Barcelona.
He said EU regulators would clear restructuring plans for nationalised lenders Bankia, Catalunya Caixa, Nova Caixa Galicia and Banco de Valencia by the end of November.
Mr Almunia also said he expected a recapitalisation plan from Banco Popular by the end of this month.