Rajoy's PP hold onto Galicia in regional vote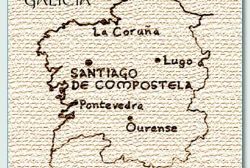 Spain's PM was given a boost for his austerity drive with an election victory in his home region of Galicia on Sunday, but wins for nationalist parties in the Basque Country could prove a headache for his centre-right government.
The election in Galicia, where austerity steps were taken by the People's Party even before Rajoy took national office one year ago, had been seen as a referendum on the Spanish government's handling of the euro zone crisis.
The victory there gives the prime minister some breathing space after polls showing him losing support amid massive demonstrations against spending cuts in public services and successive tax hikes.
Rajoy's Partido Popular easily retained its absolute majority and government in Galicia with 41 seats in the regional parliament compared with 18 seats for the Socialist Party and 16 seats for 2 nationalist parties.
That was three more seats than 3 years ago and 2 more than predicted by opinion polls for Alberto Nunez Feijoo, the PP's regional leader and a possible heir to the PP leader.
European officials and analysts said Rajoy wanted to wait until after the election to request further European aid because he feared lenders' conditions, such as a reform of the pension system, could anger voters.
The Spanish PM, who received a euro zone pledge in June of up to €100 billion to recapitalise banks, said on Friday he still had not decided whether to request a sovereign bailout. Senior euro zone officials told Reuters they expected an aid request to be made next month.
Spain has fallen into its second recession since 2009 and the International Monetary Fund forecasts the economy will contract by 1.3% next year. Unemployment is 24.6%.
In the short term, Rajoy will benefit from the collapse of the Socialists in both Galicia and the Basque Country.
The Socialists had hoped for a repeat of regional elections in Andalusia in March where they lost to the PP but managed to form a coalition government with another left-wing party. But Sunday's results may re-open a leadership war in the Socialist Party, which ruled in Spain from 2004 to 2011.
RESISTENCE
In the Basque Country, the outcome of the vote, as expected, was influenced by central government attempts to reduce provincial power.
The nationalist PNV (Partido Nacionalista Vasco) won with 27 seats, compared with 21 seats for Bildu, a pro-independence party, 16 seats for the Socialist Party and 10 seats for the PP.
It is not yet clear who the Basque nationalist PNV will have to rely on to form a government. Political analysts said it may prefer to team up with the Socialist Party rather than with Bildu, which many see as linked to Basque separatist group ETA.
Although the PNV has said it would prioritise the economy over autonomy issues, the new political map of the region as well as an expected victory of nationalist parties in another regional vote in Catalonia on November 25 will likely fuel more resistance to Rajoy's policies locally.
Spain's 17 autonomous communities manage their own budgets and are responsible for health and education policies, among other areas of public spending.
Opposition parties have accused the government of using the crisis to claw back powers from the provinces, whose overspending was partly to blame for the failure of the country to meet its deficit targets last year.
The central government has offered funding to the regions in exchange for more control over local finances. So far, 8 regions, including Catalonia, have said they would tap the liquidity line. The Basque Country is not expected to do so.