Murcia President Gives Paramount Reasurance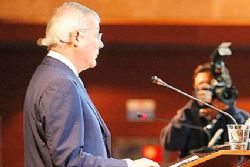 Murcia President Ramón Luis Valcárcel has given reassurances over Paramount Theme Park Murcia despite rising concern about Paramount Theme Park London.
Valcárcel was keen to emphasise at the forum "La Verdad-SabadellCAM" that Paramount Theme Park Murcia is a "much more solid" project because Paramount Murcia has already bought €30 million of land.
He went on to explain that Paramount London, if successful, would not pose a competition threat to Paramount Murcia. He joked that London, and already nervous Disney Land Paris, shared almost 300 days of rain a year whilst Murcia enjoys more than 300 days of sunshine.
The consortium behind Paramount London has finance in place and more than €6 million has already been invested in feasibility studies alone.
If the planning applications are successful, it is believed the park could be open as early as 2018, which the consortium wants Paramount London to become the largest entertainment destination in Europe.
In response to questions over the exclusivity agreement with Paramount Europe, Valcárcel stressed there is more than enough investment available for both parks, even though to date Paramount Murcia promoters, Premursa, have struggled to secure investment and more is still required.
When quizzed about Corvera Airport and the exact opening date, Ramón Luis Valcárcel declined to comment only to say that decision was out of his hands.
Corvera Airport will no doubt play an instrumental part in the success and/or failure of Paramount Theme Park Murcia, however technical, political and military issues have thus far yielded nothing but empty promises and confusion for travellers unsure whether to book tickets into San Javier Airport and whether their tickets will automatically switch to any new airport routes.
With Paramount Theme Park Murcia expected to open its doors in 2015, the pressure is on for both Corvera Airport and Paramount Theme Park Murcia to really get going despite the deepening financial crisis and declining investor confidence in the region and country overall.