Spain speeds up 2013 funding to cover regional needs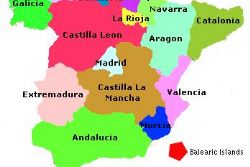 Spain is ready to start funding itself for 2013, including the needs of its indebted regions, after having nearly completed its debt issuance plan for this year, the head of the Spanish Treasury said on Wednesday.
In an interview with Reuters, Secretary General of Treasury Inigo Fernandez de Mesa declined to say if and when Spain may seek European aid to cover its huge property-bubble debts and trigger an unlimited bond-buying program from the ECB.
PM Mariano Rajoy, who already secured a €100-billion credit line to recapitalize the country's troubled lenders in June, said last week he had still not taken a decision on whether he would apply for a second aid program, this time to handle the country's finances.
Senior euro zone sources told Reuters they were laying the ground for the move to happen in November.
Investors and analysts believe such a program would help stabilize Spain's recession-hit economy, drawing a line under the 3-year-old euro zone debt crisis.
"As we speak, my funding needs for this year are almost covered, at 95 percent, and my intention is to start funding the Treasury for next year so that we can start the year with our homework done," said Fernandez de Mesa, who reports to Economy Minister Luis de Guindos.
He noted market conditions had improved drastically since August with foreign investors now the main buyers of Spanish debt at auctions. Tensions could ease further when Madrid's efforts to trim its high deficit and reform its economy would start producing effects in the next few weeks.
"There has been a big liquidity jump on the secondary market. The fall of the spread is real... The participation of international investors first stabilized and what we're seeing now is a rebound in this participation," he said, adding that foreign investors have bought between 50-80% of debt offered at recent auctions.
This is helping Spain's banks to keep their exposure to national debt in check after it increased earlier in the year when the Treasury had to rely almost exclusively on its national lenders to fund the state.
Spain's public sector debt accounted only for 15% of Spanish banks' balance sheets, a low level compared to the 20% exposure that German banks have to their country's debt and to a euro zone average of 17%, he said.
REGIONS' NEEDS
Fernandez de Mesa also said financing problems for Spain's 17 autonomous regions would soon be resolved as the Treasury has funded €12 billion out of €18 billion of a central government emergency liquidity fund.
The Treasury has made a payment of €4 billion to the fund while a €6 billion loan subscribed by the state lottery had received strong interest from Spanish and international banks, he said, denying a press report that the deal may be postponed due to tepid bank interest.
Eight of Spain's 17 autonomous regions, which handle their own budget and control health and education spending, have said they would tap the fund this year for a total amount now close to €17 billion.
Most of the regions have been shut out of financial markets for months and several of them nearly missed debt repayments earlier this year.
For next year, regions that need to cover maturing debt and finance their deficit will be included on a voluntary basis in the central government funding program. Details will be known in December, he said.
Asked about which details the ECB would still need to provide for Spain to take a decision on seeking a European aid - something PM Mariano Rajoy has said was needed - Fernandez de Mesa said it already had been made very clear.
"I think the ECB has been very explicit when it comes to explaining how the OMT (Outright Monetary Transactions) would work. It has been explicit when it comes to explaining how it would stabilize the secondary debt market."
He said Germany, whose lawmakers quizzed ECB President Mario Draghi about the plan for two hours on Wednesday, had a constructive position.
He denied Berlin was delaying a Spanish request by its reluctance to commit to soft conditions in exchange for the ECB and euro zone rescue funds financial support.
"What is good for Germany is to obtain economic growth in Europe, which benefits Germany. That is the most important,"
"The objective of Europe should be to grow and create jobs. And with that end in mind, we need to use all instruments available to reach this objective."