Santander report slump in profits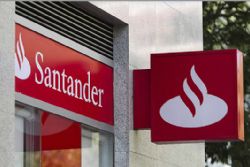 Santander, the euro zone's biggest bank, said 9-month net profit fell by two thirds, hit by writedowns on bad property investments made during Spain's decade-long housing boom.
Santander, which is weathering Spain's banking crisis better than rivals because it makes most of its profits elsewhere, said on Thursday it had completed 90% of government-enforced writedowns on repossessed housing and unrecoverable loans to developers after writing off €5 billion in losses.
The bank also increased provisions against loan defaults in Spain to €9.5 billion during the 9 months to Sept. 30.
Rising bad loans in Spain have spread beyond the real estate sector as more Spaniards default on their debts in a crippling recession, with 25% of the workforce out of a job. Bad loans hit record highs in August.
Santander's loans in arrears as a percentage of total loans rose to 6.38% in Spain, up from 5.98% which although substantially below the national average pointed to an accelerating trend, one analyst said.
"(The rate is) probably still far from peaking given rising unemployment and increasingly cash-strapped local businesses," said Flemming Barton, an analyst at CM Capital Markets.
Spain accounts for just 16% of profit at Santander, with half coming from Latin America. But earnings waned in profit-driver Brazil, where the government has rolled out more than a dozen stimulus measures since a sharp slowdown in late 2011 to revive the economy.
Santander's 9-month net profit fell 66% to €1.8 billion. Earnings on the same basis had halved at the 6 month stage.
Fresh from a $4 billion September stock market flotation of its Mexican subsidiary, Santander was able to use funds from this operation to increase its core Tier 1 capital - a key measure of financial strength - to 10.4% despite real estate writedowns in Spain.
"They've shown they can strengthen capital and still take the provisions," said Daragh Quinn, analyst at Nomura bank.
Santander has been tarnished by its home country's problems as investors fret about the future of a banking sector which is being recapitalised thanks to a €100 billion European credit line.
The bank passed an independent audit of the sector with flying colours and a massive capital surplus in September. It will not receive funds from the bailout.
Yet credit ratings agency Moody's rates the bank just two notches above junk - although one rank higher than the sovereign. Moody's confirmed this rating late on Wednesday.
"Short term, the stock's performance continues to be driven by investors' sentiment towards the sovereign," said Antonio Ramirez at broker KBW.
Santander shares have risen 10.5% in the year to date, a strong performance compared with Spanish competitors but below European peers up 15% in the same period.
The shares were unchanged in Thursday trade.
Spanish bank Sabadell on Thursday reported a 56% drop in 9 month earnings on real estate writedowns.
In Britain, Santander wrote off £52 million in costs it incurred with its abandoned purchase of 316 branches from Royal Bank of Scotland. Earlier this month Santander walked away from the deal, blaming RBS's IT delays.
It also made a £232 million provision for compensating customers for mis-selling, or the potential for future remediation, as regulators take a hard look at past practices. It included mis-selling of interest rate hedging products for business customers, but Santander did not add to its provision for the mis-selling of payment protection insurance.