Corvera Airport "Will inherit 1.3 Mln passengers" : Valcarcel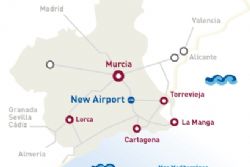 The regional President of Murcia, Ramón Luis Valcárcel, has announced that AENA has issued a favorable report on last month's test maneuvers at Corvera Aiport, which should permit operations to commence in spring 2013.
President Valcárcel would not be drawn on a specific opening date as many issues fell outside the hands of the regional authorities.
Valcárcel continued to say how AENA's approval of the test flights is "an important step following changes to the structure between the Ministries of Defence and Development".
He concluded that "We are coming to the end of the season, and the current passenger numbers at San Javier airport suggest that Corvera could inherit 1.3 million passengers per year.
"The new airport will continue to grow and become a vital tool to ensure progress in the development of the region and every sector of the economy," concluded Valcárcel.