Spain unemployment predicted to top 27 pct by 2014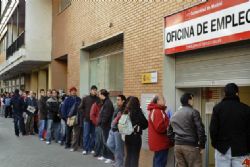 Spain's jobless number reached record highs in Q3 as a worsening recession left over 25% without work, adding pressure on PM Mariano Rajoy to seek a second European bailout.
Unemployment, the second highest in the EU behind Greece, rose to 25.02% from 24.6% in Q2, according to INE figure released earlier today, represnting the highest level seen since Spain's return to democracy in the 1970's.
Meanwhile, a number of Analysts and Economists surveyed by Bloomberg forecast that the economy of Spain will shrink by 1.4% during 2013, compared with the central government's prediction of 0.5%. The panel also predict that unemployment will top 27% by the end of 2014, while PM Mariano Rajoy expects to see jobless numbers start to fall by the end of next year.