Bankia bosses ordered to repay bonuses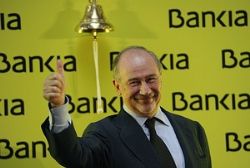 The Bank of Spain has ordered Bankia employees to repay the bonuses paid to them in 2011.
Around €5 Million in bonuses were paid to just 72 executives and senior managers after the Bank reported expected profits of €300 Million, however just weeks later Auditors refused to corroborate the claim, and instead posted expected losses of €3 Billion.
The claims led to the Bank being taken over by the Bank of Spain, and the resignation of Chairman Rodrigo Rato.
Bankia was formed in 2010 by the merger of 7 'Cajas', which received €4.5 Billion in state aid and at one time held 10% of the country's savings.