Corvera Airport slammed in court auditors report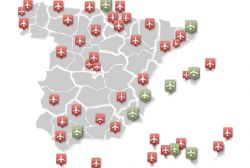 The Regional PSOE party politician, Alfonso Navarro, has spoken out over the Court Auditors for the region of Murcia, regarding their report for the Corvera Airport project between the years of 2006 to 2007.
The report specifically mentions "irregularities" and "significant deficiencies in the procurement process of the airport" as well as having detected "anomalies in budgeting and accounting" and the "duplication of services".
The report was issued in August of last year is sure to be a source of embarrassment to both the PSOE party, who were instrumental in the earlier stages of planning for the airport when they were in regional government, as well as the current PP administration.
Earlier this week the regional president of Murcia, Ramón Luis Valcárcel, spoke to reassure the press and public that Corvera International Airport would operational in Spring of 2013.