Castellon Airport NOT to exhibit at FITUR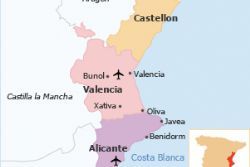 The presence of Castellon Airport at next year's FITUR exhibition in Madrid is still undecided - putting further doubt over a firm opening date for the controversial airport.
The annual FITUR tourism industry exhibition is due to be held between 30th January and 3rd February and is considered an important means of showcasing Spain to a global platform.
The Vice President of tourism for Castellon, Andres Martinez, said yesterday how the issue of exhibiting at the fair was still undecided, but would be reviewed once the required operational licences and certificates were in place.
Previously Carlos Fabra, the President of the airport's concession holder, had placed the opening date as January 2013 and reiterated his confidence that the airport will generate revenues of over €2 million per year by flying between 230'000 to 330'000 passengers.
Read further Castellon Airport news by clicking the link >> HERE <<.