PSOE propose law to protect families from eviction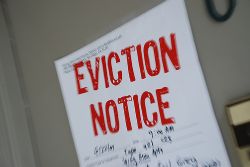 On Thursday the PSOE presented a bill in Congress to propose a new law to protect families from being evicted from their homes if they are unable to meet their mortgage payments.
The proposal explores a way in which families could meet their debt obligations whilst remaining in their homes, with one of the most important aspects focussing on how this could be facilitated for a fee that would not surpass 2% of their annual mortgage repayments and no more than 33% of the family's total income.
Leire Iglesias, the PSOE spokeswoman for housing, and Inmaculada Rodríguez Piñero, from the Party's office of economic affairs, told a news conference that the proposed law, if passed, would force some banks to reach a notarized settlement with their clients.
A number of senior judges and lawmakers have already criticized the way banks are carrying out evictions, noting how government money handed to banks should also be destined to people who are losing their homes.
The Socialists' bill proposes that banks that have received government money "Should be obligated to accept a payment on the account or the relinquishment of the property in exchange for the cancelation of the mortgage with the bank or savings bank." This would bind all financial entities that have received money from the Orderly Bank Restructuring Fund (FROB). The Socialists have also included a clause stating that families with incomes lower than €18,600 a year can opt to pay an agreed minimum amount that will go toward paying off the mortgage.
According to the Socialists, there are some 400,000 people across Spain who are facing eviction procedures.
Click >> HERE << to read about "Dacion en Pago" - the process of handing the keys of your property back to the Bank.