Spain's bad bank offers huge discounts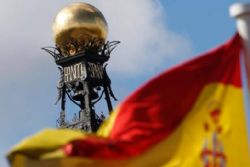 Spain today it would apply steep discounts to property assets transferred into a so-called bad bank and pledged significant returns in a move to lure reluctant investors.
The government is setting up an asset management company, or bad bank, for up to €90 billion worth of real estate assets sitting on lenders' books after a property bubble burst 5 years ago.
The bad bank is a condition for Spain to receive up to €100 billion in European aid for crippled lenders. Spain is now considering seeking EU help to lower its borrowing costs and improve its finances.
"We're looking at transfer prices which represent a significant discount," Bank of Spain Deputy Governor Fernando Restoy told a news conference.
"The business strategy of the asset management company is based on medium-term returns and we believe that the returns will be significant."
The prices at which assets will be transferred were designed to strike the right balance between being low enough to attract private investors but not so low as to precipitate bigger losses for sound banks.
Property loans will be moved in to the bad bank at an average discount of 45.6%, while foreclosed assets will be moved at an average discount of 63.1%, he said.
Discounts will range from 32.4% for loans attached to finished properties to 79.5% for undeveloped land.
The bad bank will have a return on equity of 14% to 15% in a conservative scenario, Restoy added.
Spain wants to keep its stake in the bad bank below 50% to reduce the burden for state finances and avoid an impact on public debt, and expects private investors to own at least 55%.
Since peaking in 2007, housing prices have fallen around 30% on average but analysts consider the bottom of the market may still be two years off, with prices potentially falling a further 20-30%.
NEGOTIATIONS
The Bank of Spain said it was negotiating with domestic and foreign entities to take a stake in the scheme.
Sources told Reuters earlier this month that Spain's main banks, Santander , BBVA and Caixabank would likely become the main investors.
Investors will receive capital or government bonds in exchange for property they put into the vehicle, which could take up to 15 years to sell it all off.
The steep discounts are in line with price falls foreseen in the worst-case scenario of an independent stress test of Spain's financial system whose results were published in September.
The audit showed Spanish banks needed around €60 billion in fresh capital to survive a serious economic downturn but the Bank of Spain said on Monday the transfer of assets into the bad bank would lower this sum by up to €6 billion.
Because banks' bondholders will also take a haircut on their investments and some lenders hope to raise money by themselves, the government expects to tap only around €40 billion of European funds.
The property crash left banks with €184 billions of bad debt from real estate developers. The situation is now weighing on small businesses and other sectors.
The bad bank, which is due to be up and running by the end of November, will have a maximum volume of €90 billion. It will initially receive assets from state-rescued banks worth €45 billion but is expected to manage assets worth €60 billion over time, Restoy also said.
Four lenders are currently nationalized in Spain - Banco de Valencia , Bankia , Catalunya Caixa and NovaGalicia Banco. Bankia alone will contribute as much as €24.8 billion of the assets.
Other lenders, which will require injection of public cash in the next few weeks, will also transfer assets.