Spain foreign visitor numbers and spend jumps in September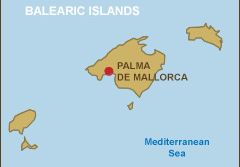 The number of people visiting Spain from overseas in the first 9 months of 2012 spent an estimated total of €45.1 billion - around 7.2% up on the same period last year.
The report issued by the Ministry of Industry, Energy and Tourism also revealed how foreign visitors spent €6.24 billion in the month of September alone - 13.4 % more than in September of 2011. This was as the result of a staggering 51% increase in visitor numbers and a 7.8% increase in the average spend per person.
Foreign visitor numbers totalled 47 Million in the January - September period, representing a 3.8% increase on the same period last year.
As in previous years, Britain and Germany made up the majority of all foreign visitors for both the individual month of September and for the entire January - September period both in September and for the year to date, with the Regions of Catalonia, the Balearics, Valencia and Andalucía attracting the majority of all visitors.
The report also concluded that the Balearic accounted for almost 27% of all Spain's expenditure by overseas visitors during the month of September.