Dia Supermarket chain slashes new store target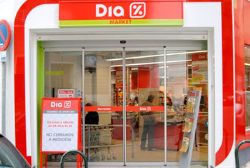 Spanish discount supermarket chain Dia reduced its target for 2012 store openings on Wednesday despite announcing that it expects higher sales than previously forecast.
Dia, which on Monday reported a trebling of its nine-month profit, said that it aims to open between 225 and 275 new outlets in 2012, down from its original target of 425 to 475.
The group, spun off from France's Carrefour last year, has defied Spain's second recession in three years with low prices to attract cash-strapped consumers in its home market and neighbouring Portugal, while expanding in emerging markets such as China, Turkey and Brazil.
Dia expects its own-brand gross sales to grow by between 5.5% and 6.5% this year, up from a previous forecast of 4% to 6%, the company said in an investors' day presentation to the stock market regulator.
Dia also raised its full-year forecast for earnings before interest, tax, depreciation and amortisation to between €595 million and €600 million, compared with its previous estimate of €590 million.