Ryanair withdraw cash passport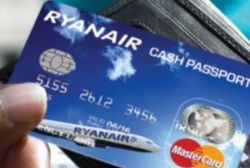 Barely 6 months after being launched earlier this year, Ryanair's 'Cash Passport' has hit a major hurdle.
Launched on April 15th 2012, the key selling point of the airline's own-brand pre-paid credit card was that it allowed owners to book Ryanair flights without any booking fee being applied. Tickets purchased using other credit and debt cards typically carry a charge of around 6 euros.
However last week Ryanair contacted cardholders by post to explain that the service has now been withdraw.
" Dear Cardholder,
Firstly we would like to thank you for purchasing a Ryanair's 'Cash Passport' . We have seen thousands of our cardholders benefit from the offer of avoiding the admin fee charge on Ryanair.com since the launch of the card on 1st October 2011. We thank you for your continued support.
It is with regret that we write to inform you that, as a result of decisions by the UK Office of Fair Trading, Ryanair Cash Passport card users will no longer benefit from avoiding the £6 admin fee for transactions made on Ryanair.com from 1st December 2012. While we are disappointed at this development, Ryanair is obliged to honour the decisions of the UK Office of Fair Trading.
We are committed to providing you, the cardholder, with further updates on card promotions and intend on notifying you shortly on our planned changes in the card offering."