Spain is key to Indpendent Scotland EU hope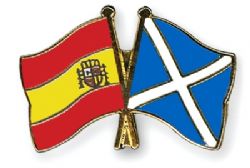 A former head of the British Diplomatic Service yesterday warned that an independent Scotland's entry into the EU would depend on the "mood" of Spain.
Lord Kerr of Kinlochard said Scotland's EU membership could be slowed down if the Madrid government wanted to make the point to the Catalonian independence movement that entry into Europe would be a struggle.
Kerr, a Scot who was UK permanent representative to Europe between 1990 and 1995, during which time he played a key role in negotiating the Maastricht Treaty, took issue with the SNP's claims that an independent Scotland would gain automatic EU membership.
"It is my firm view that if Scotland leaves the union of these islands, it has left the EU," Kerr told Scotland on Sunday.
"Leaving the UK means leaving the EU, and one needs to negotiate one's way back as an accession candidate. It would take some time and I don't think it could be done in advance [of the referendum].
"How long it would take would depend not so much on the substance of what's happening, but on the mood of the member states.
Succession neg­otiation depends on a treaty that has to be agreed by all member states as well as the candidate. Therefore, how long it takes might be a function of the mood that the government in Madrid was in at the time."
Kerr added: "If the government in Madrid wanted to demonstrate to Barcelona that succession from Spain would have a price in terms of EU membership, they might want to demonstrate that the 
process was long."
The SNP government has argued that Scotland would have automatic entry post-independence, quoting evidence submitted by Graham Avery, an honorary director-general of the European Commission, to Westminster's foreign 
affairs committee last week.
Avery's evidence stated: "For practical and political reasons, they [Scotland] could not be asked to leave the EU and apply for re-admission."
However, Spain's foreign minister, José Manuel Garcia-Margallo, took a different view last month when he told the senate in Madrid that, after independence, Scotland would have to "join the queue" and win the support of all 27 member states before being allowed in the EU.
Related Reading :
The Scotsman