ECB checking up on loans to Spanish banks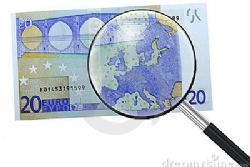 The European Central Bank (ECB) is checking whether it may have contravened its own strict rules by lending to Spanish banks on overly generous terms, an ECB spokeswoman said on Sunday.
German newspaper Die Welt am Sonntag, citing the results of its own research, said that banks had borrowed funds from the ECB and taken a haircut of 0.5% even though the creditworthiness of the Spanish T-bills they provided as collateral should have required the ECB to apply a haircut of 5.5%.
The rating of some paper should have made them completely ineligible as collateral for the ECB, the newspaper added.
"The ECB is investigating the matter," the bank spokeswoman said.
At issue is nearly €80 billion worth of 18-month T-bills the newspaper said had been wrongly classified as carrying a top-notch A rating whereas many are rated only as B by leading rating agencies Moody's, Fitch and Standard & Poor's.
"Dealings with certain Spanish government bonds casts doubt on the quality of the ECB's risk management... because the bonds pledged by the banks as security meet the central bank's requirements only in part," Die Welt am Sonntag said.
If the bonds were downgraded, the affected banks could have to produce other collateral amounting to as much as €16.6 billion in value, Die Welt said.
Like other conservative German media outlets, the newspaper has been critical of the ECB's efforts to combat the euro zone crisis, especially its offer to buy unlimited amounts of debt from struggling countries such as Spain under certain conditions to help reduce down their borrowing costs.