Disagreement over exact number of unemployed in Spain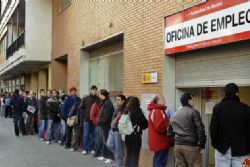 Data released today by Spain's Ministry of Employment has confirmed that unemployment increased by 128,242 people last month to now stand at 4,833,521.
The figures differ to those issued by the National Institute of Statistics (INE), who noted 5,778,100 unemployed in their report of October 26, but both still show a trend of growth. The difference is due to Ministry calculating the number of people who are eligible for benefit, whilst the INE calculates the number of people who have lost this entitlement yet are still belived to be without employment.
The Ministry data confirms a 2.73% rise in unemployment between September and October, an increase which is partly due to the loss of jobs in the service sector as the tourism season winds down after the summer.
It is, however, the 3rd worst October on record for a rise in unemployment. Only October 2008, at the start of the crisis when 192,658 people lost their jobs and October 2011, when unemployment rose by 134,182, saw greater increases.
Meanwhile 472,595 people lost their jobs between October 2011 and October 2012, a 10.84% increase in unempoyment.
The service sector was hardest hit in October with 97,610 jobs lost, but other sectors also performed badly with 24,401 jobs lost in agriculture, where seasonal factors can also be taken into account. Industry also saw 8,888 positions disappear, while the construction sector continues without showing any signs of recovery with 3,670 jobs disappearing.
Secretary of State for Employment Engracia Hidalgo commented that the figures couldn't be considered "good", but stressed that "unemployment is behaving better than it did in 2011."
The October data also confirm a worrying trend in the Spanish job market: although 1,427,173 new contracts were signed during the month, only 130,632 (just 9.1% of the total) were for permanent jobs and of those 130,632, just 62,360 were for full time posts with the remainder for part-time jobs.
This seems to show that the market is evolving with companies looking to take on more temporary and part-time workers: situations which offer little security to employees who in turn will be more likely to save rather than spend their earnings to protect themselves for them their contracts expire.
This situation will do little to stimulate a significant rise in consumer spending that the needed to help kickstart the economy and lead to a greater creation of wealth and jobs.