Vueling confirms plan of expansion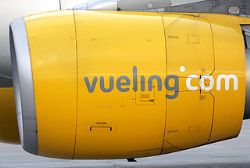 Alex Cruz, CEO of Spanish budget airline Vueling, has announced that the airline has seen growth in passenger numbers to their Barcelona El Prat base airport, despite challenges in the domestic market.
"We believe that we have the right business model to survive in a tough and shrinking market. Vueling operates at a very low cost basis - the second lowest in Europe. This gives us the flexibility to offer competitive prices to attract new passengers and to develop new markets. We also offer a premium product almost like classical airlines booking through travel agencies, frequent flyer programme, free newspapers and a business class. This allows us to attract a high proportion of business people. Therefore, we feel strong enough for a growth strategy".
Cruz went on to discuss the airline's plans for expansion into 2013 "We're expanding outside of Spain, that's true. We are currently evaluating various options. In the medium term, we will open a second base abroad, which allows us to offer new routes. But it is still too early to say more details about it".
Last month Vueling reported a 4th consecutive year of growth, and spoke of the introduction of as many as 100 new routes to and from El Prat airport alone from next year.