Corvera and San Javier To Operate Simultaneously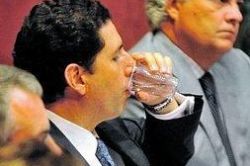 The Murcia Regional Minister for Public Works, Antonio Sevilla, has announced that both Covera and San Javier airports will operate simultaneously within the next five months.
His announcement came during a presentation at the annual regional assembly of Murcia, discussing budget and investment plans for 2013.
Antonio Sevilla stressed that operations cannot be simply switched from San Javier across to Corvera. Instead a staged transition period of between two to six months would be required, the duration of which would depend on AENA technicians moving flight slots and resources to the new Corvera Airport facility.
Corvera Airport is in the final stages of completion with only a further €107,000 required to complete essential electrical connections and complimentary infrastructure.
However, before receiving the first flights, Corvera Airport over the next few months must still obtain important safety certification of facilities and airspace approval by EASA and AENA.