El Pais Journalists strike over job cuts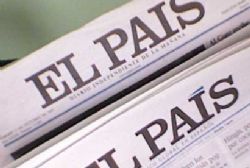 Staff at one of Spain's most-read newspapers, El Pais, started a three-day strike on Tuesday in protest over a management plan to cut a third of the workforce to keep the title afloat as advertising income plummets in a deep recession.
The empty newsroom means a print edition of the daily paper is under threat for the rest of the week.
Workers had called off a previously planned strike as they negotiated with Spanish media group owner Prisa, but discussions reached an impasse.
"The strike has been a success, the newsroom is practically empty. There are only some subdirectors and managers there," a representative of the workers' committee said.
Management said on Monday they would scale back planned dismissals to 139 out of the paper's 460 posts and cut salaries for remaining staff by 13%. Staff rejected this new proposal and 93 percent voted in favour of a strike.
The management plan also includes early retirement for some workers. Staff took a pay cut of around 20% in 2011, the workers' representative said.
Dozens of media outlets in Spain have closed since the country's economic crisis erupted in 2008 as a housing boom fueled by cheap credit turned to bust.
El Pais was founded in 1976, during Spain's transition to democracy following the death of dictator Francisco Franco and gained a reputation as the newspaper of democratic Spain. But it ran into debt troubles when it bought out the minority shares of its Sogecable pay-TV unit soon before the 2008 financial crisis.
ADVERTISING PAIN
Prisa lost €31 million between January and September this year. The company, with assets across Latin America and Europe, said strong growth overseas was overshadowed by weakness in print media and radio, particularly in Spain.
Prisa's Chief Executive Juan Luis Cebrian angered staff with comments 2 weeks ago that workers over 50 no longer fitted the newspaper's profile.
"We can't keep living so well," he said. Cebrian earns €13 million a year and workers facing pay cuts have demanded he return some of his high salary.
Advertisers in Spain expect to spend 15.1% less this year, according to a survey published by media consultancy Zenith.
El Pais had an average circulation of 345,000 in the year to end-June 2012, according to Spain's circulation registry ( OJD).
The Madrid-based paper reported last Tuesday that it had made a loss for the first time this year.
El Pais has regional offices in Spain and is also printed across Latin America and in Britain, Italy and Belgium.