Chinese car manufacturers mull launch into Spain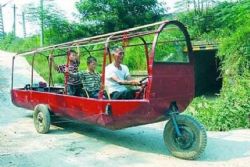 An Industry expert commented yesterday how Spain could be used as a guinea pig for China launching their car industry into the European market.
Jaume Ribera, professor from the IESE Business School in Barcelona, said one of the ways for Chinese-made cars to enter markets in Europe is to manuacture them here.
"Opening factories in European countries is a way to open a market there and to become part of that country rather than a company that merely exports from China," said Ribera, also a professor of the China Europe International Business School in Shanghai.
Ribera said at the presentation of a report on Chinses car industry by the Shanghai school that there is one country that looks to be perfect for China to take such a step: Spain.
"The Spanish market is one where there are exsiting distributors, a strong automobile sector which has been established for a long time, places to install a factory and workers who are at the moment looking for work. It would be the perfect place for the Chinese," Ribera said.
Ribera made the talks in an interview with Xinhua at the 27th automotive industry meeting held on the IESE campus in Barcelona, pointing out that mergering is the future of China's car industry.
"What we discovered is the excessive number of car producers in China. We are talking about 120 manufacturers and it is impossible for all of them to compete," said Ribera.
He added that big cities such as Beijing and Shanghai simply do not have the capacity to hold more cars on their roads, which made it hard to sustain so many different manufacturers.
"We will have to look for fusions and my advice is the sooner that is done, the better. There are things that we don't like to do, but we have to do. The faster we start, the easier it will be to survive," he said.
Meanwhile, just last week it was announced how Spanish new car sales for the month of October were 27% down on the same period last year, due to a worsening economy.