Serbian drugs gang arrested in Spain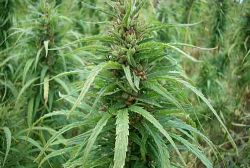 Spanish police said they broke up highly organised Eastern European gang known as the "Zemun clan", who profitted from the sale of marijuana grown on hidden farms in the Canary Islands.
Police arrested 25 people and seized around 700 plants grown in greenhouses and in fields away from the public.
The investigation leading to the take-down of the Sebian gang was launched after the arrest of Luka Bojovic last February, who was behind the assassination of Zoran Djindjic, the Serbian PM, in 2003.
Bojovic subsequently tried to cover any connection between himself and the assasination by arranging for the assasinations of the hitmen.
17 of the 25 arrests were made in Las Palmas, in the Canary Islands, with a further 8 in Benidorm on the Costa Blanca. Police carried out a coordinated 33 raids and seizes around €840'000 in cash, 65 grams of cocaine and various items of luxury jewelry.