UK begins recruitment drive for Spanish Doctors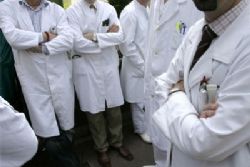 A number of the UK's Healthcare trusts are watching closely, as Officials representing the Abertawe Bro Morgannwg University Health Board have flown to Spain in a bid to mount a recruitment drive for much-needed Doctors.
The announcement was made by Swansea Trades Councillor, Ronnie Job, who claimed that ABMU were seeking to make cost savings.
In response the ABMU said how whilst it true that cost savings needed to be made, but that there were still a number of much-need Doctors positions at the Hospital that required filling.
"Like everyone else in the current economic climate, ABMU faces financial challenges. But money is not the only issue and some of the possible changes may cost more to deliver.
"One of the big issues driving this is the chronic UK-wide shortage of doctors, particularly in some services.
"ABMU is doing all it can to recruit more doctors, and we are currently trying to recruit in Spain, carrying out interviews for doctors in acute medicine, paediatrics, A&E, anaesthetics and psychiatry.
The Spanish recruitment drive follows a similar initiative in Dubai last year.