Regions prepare for record cost-cutting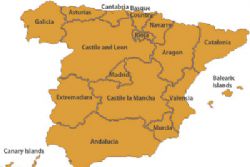 Ten out of the 17 regional governments have presented their 2013 budgets, which reveal desperate efforts to make more cuts on top of those made last year and the year before that.
Their combined efforts manage an average 6% reduction over 2012 budgets, in what is clearly the greatest effort to contain costs in Spain's democratic history.
These 10 regions, which include debt-ridden Valencia and Castilla-La Mancha, will have a joint €6.7 billion less to spend. The goal is to achieve the regional deficit target of 0.7% of GDP set by Spanish PM Mariano Rajoy in July.
Spain's regions have been under increasing international scrutiny because of what is now widely perceived as careless spending during the boom years. Even if the part of the national deficit that is controlled by Madrid is brought down, analysts note that the regions contribute a fair share to the overall figure, and must be brought in check for Spain to meet its EU targets.
All of the regional governments failed to meet their 2011 deficit targets.
The various administrations have chosen different cost-cutting formulas. Some are taking a whack at investment and raising taxes in order to leave public services untouched, while others prefer the opposite system in order to avoid putting greater fiscal pressure on citizens.
The biggest cost-cutter for 2013 is Castilla-La Mancha, with 10.25%. This largest region was also the worst performer last year, with a seven-point deviation from its 2011 deficit target.
Murcia, which also failed to meet its 2011 target by a wide margin, is planning to slash 7.4% from the budget.