Opening Corvera "not easy" : Valcarcel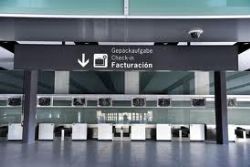 Murcia's President Valcárcel, has defended the efforts of his government in opening Corvera airport, saying how the process "was not easy".
When pushed for a specific opening date he replied that "everything is going well, and we are taking all the right steps at the right speed in order to do things correctly". He also reminded members of the press that there was still the matter of the transfer of operations from San Javier airport to consider.
He alluded to previous setbacks, which had cause them to proceed more cautiously : "when we thought we had come a long way with things, we were disappointed to find that we still had some way to go".
Earlier this weekend Murcia's Minister for Culture and Tourism, Pedro Alberto Cruz, said how the region would "enthusiastically welcome Ryanair to Corvera" , after it was reported how the resort of Benidorm alone provided more Hotel accomodation than the entire region of Murcia. Meanwhile the spokesman for the regional Socialist, Rafael González Tovar, blamed President Valcarcel for being solely responsible for causing the "mess" with regards to the opening dates for the airport.