Castellon Airport costs escalate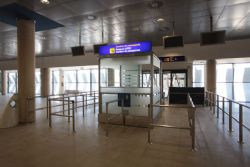 Carlos Fabra, the President of Aerocas, the concession holder and promoter of Castellon's Privately owned airport, has been singled out for further criticism in the Spanish press.
The on-going fiasco at Castellon Airport - which "opened" in March 2011 an estimated cost of €300 Million - has still not seen a single plane take off or land, with only the President himself willing to assert his confidence that the facility will become fully operational early in 2013.
However, leaving aside the incompetence in opening such an airport without the required permissions, Aerocas have also been publically berated for wasting public funds at a time when the region of Valencia is being called upon to exercise more austerity.
* Last year it was revealed how the (then) Director of the unoperational Airport, Juan García-Salas, was paid €84,000 a year - more than the (then) Prime Minister, Juan Rodriguez Zapatero, who was paid €78'000.
* In January EASA found that the runway was too short, and in the wrong orientation, which would cost an estimated €80 Million to rectify.
* In the same month the airport that they had spent €30 Million to date on an advertising campaign
* The egotistical and self-indulgent statue of the President, commissioned to grace the outside of the airport came in at 125k over the initial €300'000 budget .
* A contract to the value of €450'000 for Falconry being awarded as a 'necessary measure' to keep Rabbits and Birds away from the runway.
* Earlier this month it was revealed how the airport would require a a budget of €17 Million to operate for 2013 , with the contribution of the Generalitat Valenciana being €1 Million.
* In March it was reported how the airport spent an average of €7'700 per month on electricity for the unopened site.
The above "wastages" alone - and we are sure that there are many more that have been swept under the carpet - equate to a staggering €411 Million. Although the airport was "funded largely by private money", the Generalitat Valenciana remains a majority shareholder in Aerocas, and as such continues to prop up this failing project whilst issuing further cuts to public spending and calling for more austerity.
A few points to consider :
*€411 Million total expense (we can only guess what the contribution of the region has been) divided by the 5.1 Million residents of the entire region.... ?
*With 2 further open and operational airports in the region of Valencia, does the Province of Castellon - with a registered population of 511'000 - even need such an airport ?
* At a time when Valencia has a 28% rate of unemployment, and when children are being charged €3 per day to eat their own packed lunch at school, would the region's contribution to this wastage using public money not be better spent elsewhere ?