Paramount Murcia construction to start 15th Jan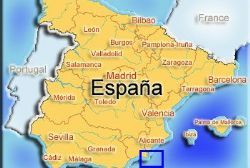 The Minister of Culture and Tourism for the region of Murcia, Pedro Alberto Cruz, has confirmed that construction works at the Paramount Theme Park is expected to commence on the 15th of January.
He told Europa Press how this was "an encouraging milestone", which should attract the required investment to complete the project.
Cruz dismissed claims that funding should have been secured before the project began by saying how almost every similar project had to deal with such issues, citing Eurovegas and BarcelonaWorld as examples. The Minister also reminded the press how the attractions would be totally different, and how the budget was much lower at the Paramount theme park.
Furthermore, the Minister added that the same critics were also calling on the politicians to create jobs, stimulate the local economy and not hinder the Paramount project any more than was necessary.
He went on to acknowledge that the Brits would continue to be an important market for the theme park, but that marketing would not focus exclusively on the UK as the Park would have something to offer all markets in Europe.
In September the Director General for the Department of Tourism was quoted as saying how he did not wish either Corvera Airport or the Paramount Theme park to be dependant on British Tourism .