Austerity "Only way out of crisis" : De Guindos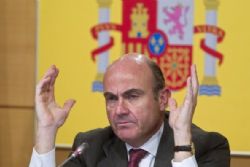 Spain's austerity measures to reduce the public deficit are the only way out of the country's economic crisis, said Economy Minister Luis De Guindos as workers across the nation took part in a general strike.
"The government is convinced that the path we have taken is the only possible one, the only way to get out of the crisis," De Guindos told journalists in Madrid.
"The government is going to meet all its commitments ... it's a priority not because it's imposed by Brussels, but because we need to reduce the Spanish public sector's dependency on credit," he added, referring to Spain's deficit targets.
Spain's crisis could not end while uncertainty about the euro continued, he said.