Spain "Has taken action on deficits" : Rehn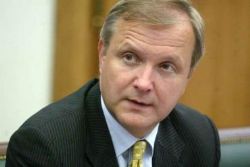 Spain has taken effective action to address its budget deficits in 2012 and 2013, the EU's top economics official said on Wednesday, signalling there will be no further escalation of disciplinary budget steps against Madrid.
"Progress is being made, even if the situation faced by many Spaniards remains very difficult," EU Economic and Monetary Affairs Commissioner Olli Rehn told reporters.
In July, EU finance ministers gave Spain one extra year, until 2014, to bring its budget deficit below 3% under the EU's excessive deficit procedure, which can end up in fines if a country ignores the recommendation to cut its deficit.
While Spain will miss the nominal deficit targets set by the ministers, it meets the structural adjustment requirement, Rehn told a news conference.
In structural terms, which strip out one-off revenues and expenses, as well as the effects of the business cycle on government income and spending, the ministers asked Spain to cut the deficit by 2.7% of GDP in 2012, another 2.5%of GDP in 2013 and 1.9% of GDP in 2014.
Rehn said Spain's structural balance improved 5.25%in 2012 and will improve a further 2.25% in 2013.
"The estimated annual improvement in the structural balance this year and next year is in line with the effort required," Rehn said.
"Yet there are risks for next year, they stem partly from an optimistic macroeconomic scenario underlying the 2013 budget. There are also risks of budget slippages in the autonomous communities. It is vital to implement effectively the provisions of the stability law," Rehn said.
He also cautioned that Spain's budget measures for 2014 fell short of expectations for now.