General Strike brings 150 arrests, 100 injuries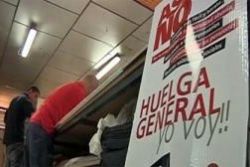 Estimated numbers of participants in yesterday's General Strike placed around 820'000 people in attendance at various protest rallies across Spain.
The Ministry for the Interior also reported that violence had erupted at a number of marches, resulting in injuries to 77 civilians and 43 Police Officers, and saw 155 arrests.
The major CCOO and UGT Unions estimated that as many as 175'000 took part in the protest in the capital, whilst rather predictably the Government sought to play down the support for the strike by placing the figure at closer to 35'000.
Similar strikes and protests also took place in Portugal, France, Belgium, Italy, Greece and Poland.
Spain has seen 8 previous General Strikes since the return to democracy over 30 years ago. These past strikes, whilst being branded 'popular successes' by the Unions, but 'ineffective and lacking in support' by the Government, have had limited impact on previous Government Policies. However, with no signs of a prolonged recession abating in the near future, with further cuts and austerity promised, and with unemployment at record levels - and climbing, the Government would be foolish to ignore the current mood of the country.