Spanish Ambassador called to urgent Gibraltar meeting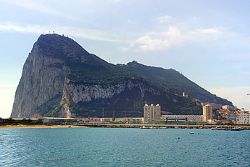 The Gibraltar question has made the front pages of the press once again today, with reports that the UK Foreign Office has called an urgent meeting with the Spanish Ambassador over allegations that Spain's Navy entered the coastal water off the rock earlier this week without permission.
On 2 seperate occassions on Monday the Spanish Navy attempted to patrol the waters, follwed by an incident where the Spanish Customs tried to apprehend a Gibraltan civillian vessel whilst still in Gibraltan waters.
Spanish ambassador Federico Trillo is no stranger to such meetings, with Madrid repeatedly claiming sovereignty over Gibraltar.
Britain's Minister for Europe, David Liddington told the press "We remain confident of UK sovereignty over British Gibraltar territorial waters and fully committed to protecting the interests of the people of Gibraltar and their wish to remain under British sovereignty."